Explore the coastline by leaving the beach on sit on top sea kayaks, To paddle around the coast where you will leave your kayaks to swim into caves climb across rocks and jump around some of the coastline, Before returning back to the beach on your kayak.
£40 per person
Minimum charge £200 for upto five people, maximum group size 10 persons
(A responsible parent must be on site during this session to take responsibility for the supervision of the children)
Includes session of paddlesports based in rafted canoes or kayaks as appropriate to age of participants and weather conditions
Sessions last 90 minutes and are based on the Mooragh Park Lake
£150 for a group of up to 10 children additional children £15 per head
Add an overnight stay for just £12 per person per night (bringing own sleeping bags).We can arrange dorms for children to stay in and leaders rooms for the supervising adults. Groups will also have access to outdoor areas during the evening aswell as the lounge. We require parents / responsible adults to supervise children during sleep overs. Minimum of 1 adult for every 8 children.minimum age 9 years
Our high ropes course comprises of over 17 elements including a 100 metre zip line. with elements ranging in height from a few metres to some elements over a 12 metre deep ravine. Based in woodland in the picturesque Parish of Maughold a session on our high ropes course will provide a great experience for all family members.
Sessions last approx 90 minutes
We use a continuous belay safety system ensuring users are connected to the safety line at all times no clipping on and off required.
All participants are issued with full body harnesses
Minimum age 9 years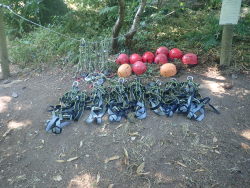 Minimum height 1.2 metres
Maximum weight 18 stone 120 kg
Click the link to find next open session or just give us a call on 01624 814240
Prices £15 per person for a 1 - 2 hour session